Dimak Fire Door has been tested in laboratory environment in real ovens in accordance with EN 1634-1 norm and received 60, 90, 120 minutes certificates. In addition to standard dimensions and features, Dimak Fire Doors, which can be produced with the desired features, sizes and accessories, are doors that allow people to pass while simultaneously preventing fire passage between departments in a certain period of time. While Dimak contributes to the safety of life and property in buildings with its standardized certified fire doors, it offers construction companies a quality product that will not strain their budgets and that they can obtain quickly, which is practical in transportation and assembly.
Tested according to EN 1634-1 standards
Certification for 60 , 90 and 120 minutes fire rating.
Produced in both standard and customer-specific sizes.
Constantly stocked on standard sizes (quick delivery in standard sizes)
Doors of heights 2050/2100/2150 mm are reversible (Left&Right)
The doors are coated with electrostatic powder coating process in our modern robotic coating line.
The standard color is RAL 9002, however any requested RAL color can be applied.
The door frame and the door leaf can be coated in different RAL colors.
Door leaf has 63 mm thickness and produced from 0.80 mm thick galvanised steel.
Door frame is produced from 1.50 mm galvanized steel.
Galvanized steel is used in the production of door frames and door leaves therefore the doors are highly enduring to corrosion.
Doors are supplied with lock, handles (or panic hardware) euro cylinders and 3 keys.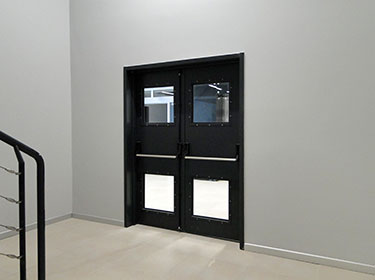 You can visit our Documents page to view all Dimak Fire Door Features.